who's who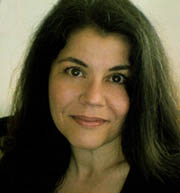 Patricia Johnston - Author of Je donne ma langue au chant!.
A graduate in International Studies from the University of Washington in Seattle, Patricia co-runs Nectar Prose International Artist Management in France, an agency specializing in the development of works by classical, jazz and world music composers. She is one of three associates who built Taklit Production & Publishing.
Patricia entered the world of music at age 8 after having heard violinist, William Boyd make his violin speak during a school presentation of orchestral instruments. What she heard was in fact a piece of jazz called the Hot Canary. That experience is at the base of a career choice merging culture, education, music production and communication.
Patricia has composed English songs for les Editions Nathan and Presse Pocket (Univers Poche) in France and is the former director of communications at Koka Media (Universal Music Publishing) - France's leading producer of music for the audiovisual industry.
"I'm not a singer and these are not an artist's albums, though they are artistically well-done tying language, music and visual arts together. This collection is designed to give a positive first impression of music and a foreign language to very small children. My biggest thrill is watching the kids quickly pick up the melodies with independence and pride, and going away, convinced they really do speak English. From the arrangements to the extraordinary paintings in the booklets that accompany the collection, the message is clear: the first impression is the lasting one, so make it good!"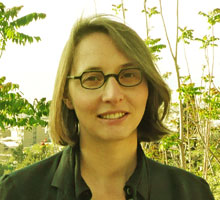 Anne Sophie Hueber, Illustrator - studied at the Ecole Supérieur of Applied Arts Duperré, received her degree and Master of Applied Arts from the University of Paris and spent an additional year doing research at the Beaux-Arts - Glacière in lithography and engraving. Anne-Sophie is presently doing research at the Beaux-Arts in Compiègne, France.
A mother of three, Anne-Sophie is particularly interested in themes related to discovery and experiences, motherhood and the emotions surrounding childhood. Her style focuses on creating a poetic universe using simple, synthetic forms and soft watercolors to express her understanding and vision of the world of children.
Associate Professor Denise Werle has taught English at all levels, from sixth grade to preparatory classes for the French Grandes Ecoles. Academic advisor, she has participated in the development of curricula for modern languages in primary schools and facilitated the training of teachers. In practice, especially with younger students, song, poetry, culture of English-speaking countries has always occupied a special place. She is the author of the teacher's handbook for Crackerjack 1 (Nelson), an introductory method of English for 7 to 8 year old children, and wrote suggested uses and recommendations for using a retroprojector with the method The Cat In The Box (Didier).

The Production Team
Nicolas Glady, Production Manager
Arie Zonshine, Artistic Director
Thomas Hily, Assistant
Guillaume Mis, Recording, Mix, Master
Alain Pewzner, Recording, Master
Jean-Philippe Badoui, Mix, Master
Luiz De Aquino, Recording, Mix
Nicolas Dhorne, Graphic Design
Solika Proctor - Graphic design & conception-teacher's pack
Educational Advisors
Denise Werlé
Hélène Werlé
Sylvie Girardin
This collection exists because of the very fine and decicated composers, arrangers & musicians who take the time and care necessary to provide beautiful sounds for children who deserve it.
Patricia Johnston, Vocals-compostions-lyrics
Laurent Grynszpan (France) Compositions-Arrangements
Darren Loucas (USA) Arrangement
Arie Zonshine (Israel) Composition-Arrangement
Roni Porat (Israel) Composition-Arrangement
Luiz de Aquino (Brazil), Guitars, Composition-Arrangements
Michael McGregor (USA) Arrangement, Keyboards
Betsy Schlesinger (USA) Piano
Line Kruse (Denmark) Violin
Kicca Andriollo (Italy) Vocals
Oscar Marchioni (Italy) Hammond Organ
Gabriel Casalis (France) Cello
Ney Veras, Percussions (Brazil)
Abraham Mansfaroll (Cuba) Drums & percussion
Richard Boisson (France) Drums
Bobby Rangell (USA) Flutes
Peter Giron (USA) Contrabass
Herbert Lashner (USA) Oboe
Matthew Schubin (USA) Bassoon