FOR EDUCATORS: The contents of each album
Volume 1 The Beginning...

The three songs on this first album speak to the spirit and imagination of very small children.
Children will learn to recognize and talk about some very interesting animals and insects, the sun, moon and stars.

In this first opus, we also learn to recognize and talk about who and what we see. There are plenty of activities and ideas for teachers and parents in addition to the audio program contained on the album.

This album provides hours of pleasure through learning as we discover new classical and jazzy sounds with swing.
---
Volume 2 - Island Sounds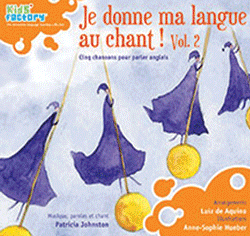 Volume 2 continues exploring the musicality of the English language with five entertaining melodies that stimulate curiosity and encourage autonomy.
These fun tunes with their Latin sounds help children naturally and spontaneously memorize complete sentences and grammatical structures.

A unique story unravels with each song, exquisitely illustrated by Anne Sophie Hueber.



Listen to an excerpt from "The Banana Tree"

Volume 3 The World is a Stage!

Who stole the alphabet? What's keeping a little bird so busy? Why are we we going to San Francisco? Why don't we want to take a bath or go to school? What keeps kids so busy and why can't they go to bed on time?
You and your child will discover answers to these questions and more, in this very theatrical rendition of Je donne ma langue au chant! where every song can be adapted to short musical plays by children.
Listen to an excerpt from the "Milkshake Blues"