ESL & Kids' Factory Teaching Games and Ideas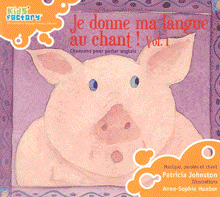 • You Tube
• Facebook
THE PRODUCTION COMPANY

Our Partners and Exclusive Editors and Distributors
L'Autre Distribution • Génération 5 • Believe Digital • Editions de l'Envolée (Canada)
• Caracol Music Publishing (Belgium)

Sites we appreciate! Teaching English & Games Links

Markaki School student's blog!
English Club - This blog is designed for French highschool students who want to improve their English. It was created by Ms. Aniella Lebeau, an English professor at Louis de Broglie highschool in Ancemont, France, near Verdun. Aniella and Christina Markoulaki at the Markaki School in Greece, have set up a fine email exchange program between their students. Have a look!
Markaki School of English - Located in Heraklion, Greece - this school offers one of the most dynamic and vast programs to help youngsters and adults excel in English with poise, confidence and humor!
Preschool Games and Stories Children and teachers love these ESL stories, lesson plans and songs
Teach your child English Teach your child English Have fun teaching your children English at home with these English language games. Watch the video demo to see how easy it is!